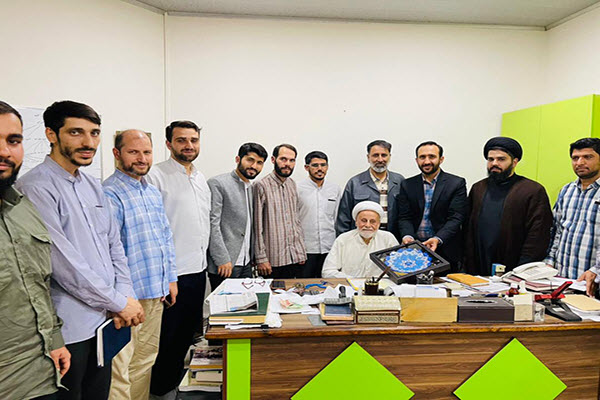 The delegation of Baqir al-Olum University met and talked with the director of Baha' al-Din al-Amili Studies and Research Center of Lebanon during their trip to this country.
According to the public relations report of Baqir al-Olum University, the delegation met Sheikh Jafar Mohajer, the director of Baha' al-Din al-Amili Studies and Research Center of Lebanon through the coordination of Seyyed Mohammad Reza Mortazavi – caretaker cultural advisor of the Islamic Republic of Iran in Lebanon.
Seyyed Mohammad Reza Mortazavi began the meeting by thanking Sheikh Mohajer and explained the areas of cooperation between the active academic and cultural centers of Qom and Baalbek.
In this meeting, Sheikh Jafar Mohajer, whilst emphasizing the special position and dynamic jurisprudence of Qom, stated: The school of Shia jurisprudence has gone through five stages, including the schools of Qom, Baghdad, Halla, Jabal Amil and Najaf. The school of Qom has paid attention to collecting and compiling hadiths and narrations. The school of Baghdad was the founding school of Shia jurisprudence. The school of Hala is the school of development and growth of jurisprudence, and the school of Jabal is considered to be the school of application and implementation of Shia jurisprudence by the first martyr. Currently, jurisprudence has once again returned to its origin, Qom, but with a different approach that is completely distinct from its previous stages.
He continued: The current school of jurisprudence in the Islamic Republic of Iran is not based on individuals and does not only refer to written sources, rather, the Islamic Republic has developed and advanced jurisprudence systematically. Every issue and subject is analyzed in the Islamic parliament through consultation with experts in the field. It is then examined, approved and legislated by the elite members of the Guardian Council as well as the Expediency Discernment Council of the System with collective wisdom and in a systematic manner.
The director of the Bahauddin Ameli center, whilst pointing this out as a new stage for Imami jurisprudence which is carried out in a systematic manner, clarified: what is the output of the Islamic Republic system under the supervision of the guardian of the jurist (Wali al-Faqih) is a jurisprudential ruling, which is different from individual jurisprudence that is based on mere reference to jurisprudential texts and sources.
Addressing the students and scholars present in the meeting, he asked them to be brave and make the most of this historical opportunity so that the path of uplifting Shia thought and jurisprudence can be realized.